Henri Émile Benoît Matisse was a French artist, known for both his use of colour and his fluid and original draughtsmanship. He was a draughtsman, printmaker, and sculptor, but is known primarily as a painter.  Did you know that Henri Matisse designed a church once?  It was near the end of his life, Henri Matisse helped a group of Dominican sisters build a chapel in southeastern France – Vence.
la Chapelle du Rosaire
Matisse 1869–1954 was diagnosed with a terminal disease in 1941.  Around the time, due to his illness, he stopped painting and began creating works of cutout paper.  (They are more interesting than they sound.)
His nurse became a goodfriend and later enrolled in the Dominican convent at Vence.  She asked if he could help with the design for a new chapel at the convent, and so she was able to enlist the most famous artist of the era who was also an atheist, to collaborate on la Chapelle du Rosaire.
Matisse is commonly regarded, alongside Pablo Picasso, as one of the artists who best helped to define visual arts throughout the early 1900s. Responsible for creative developments in painting and sculpture. Along with Picasso, Matisse helped to influence the directions of radical contemporary art in the 20th century.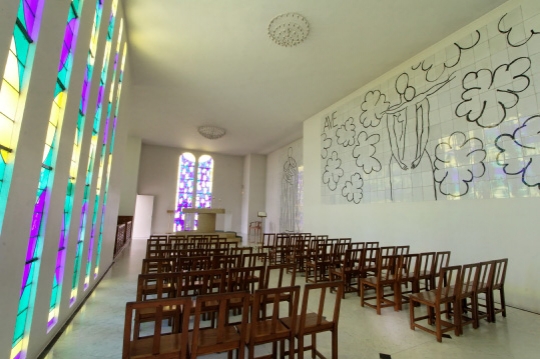 Although he was originally criticized by art critics by the 1920s he was being hailed as an upholder of the classical tradition in French painting. His mastery of the expressive language of colour and drawing, displayed in a body of work spanning over a half-century, won him recognition as a leading figure in modern art.
Image below of the chapel outside